לעברית לחצו כאן
To switch from edit view to read view
Home page > NetFree for professionals > NetFree for video editors ‎‎
General Explanation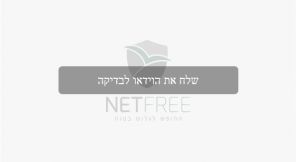 You can submit a video for review from most sites (that the video file is a static file). In order to submit the video for review, you must send a request to NetFree's Support System with the URL of the page on which the video appears.
In the videos stored on the following sites, NetFree has developed a quick access to the Support System by clicking on the video itself:
See expanded entry: Video filtering.
There is a private initiative site where you can search videos (from YouTube and Vimeo) already opened by NetFree, the address is http://video-tov.ml/.
For now, there is no solution to other common video repository sites.
Different video sizes
On many sites that allow video download, it can be downloaded in varies sizes. Note that the file paths are usually different, so even if a certain size is not checked, another size may have already been checked and will download easily, which will save sending for review.
Important Note: On the website Pixabay the video displayed on the page as a preview is in size 3 of the 4 optional sizes (typically 1280 × 720). So if you sent the video shown for reviewing, you will not be able to download in full quality (No. 4 in the list), but you will be able to download in quality No. 3. In any case, you can send the full-size file for a separate review.